We're not just a dance school, we're a community
Seeing dancers achieve their goals brings immense joy to the AAA community.
Whether they are doing turns; or dancing for five minutes using a walker; or learning to skip - everyone's goals are celebrated.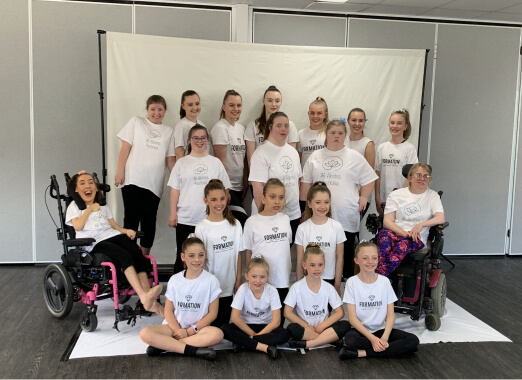 Dance is the most amazing medium for achievement, and everyone can dance.
"Absolutely wonderful teachers who engage beautifully with their students. My daughter can't wait to go back for her next lesson. Can't recommend them enough."
Our teachers work with their dancers and their circle of support to provide the best class for them and aim to work in line with their therapeutic and educational goals.
Our classes incorporate a variety of resources and evidence based theories to support dancers' learning. AAA is passionate about encouraging social interaction, communication and autonomous thinking among dancers, and provide them with opportunities to communicate opinions and make choices with their preferred communication method.
All AAA staff are competent with PODD, PECs and know key signs (Makaton). One of AAA founders, Annabelle, communicates and teaches classes using Australian Sign Language (Auslan).
AAA uses resources that are relevant to each class. Some of these resources include visual schedules, visual markers, tactile markers, sensory zones and reward systems.
Talk to us.
We believe in a collaborative approach and aim to work with our participants and their circle of support to design programs to fit their personal goals. So get in contact today to become apart of the All Abilities Australia Community.